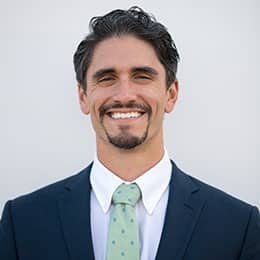 Michael DeTerlizzi
Michael DeTerlizzi joins Nino Properties as a sales agent specializing in residential and commercial properties after a decade of coaching and teaching at the college and high school levels. Upon finishing his college football career and completing his Masters of Business Administration, Michael entered the coaching profession while still keeping his passion for business and entrepreneurship alive through various endeavors. Real estate quickly arose as a growing passion in his pursuit to build relationships and serve people in their buying, selling or renting journeys.
The relocation process is something very familiar to Michael, having lived in seven states by way of new job opportunities or family moves over the years. After settling in Houston in 2019, Michael fell in love with all that Houston has to offer (which includes meeting and falling in love with his now wife), from its diverse population, rich culinary scene and its expansive, dynamic neighborhoods.
Through his spirited nature, exceptional communication skills, attentiveness and commitment to excellence, Michael is a natural fit for the culture and team at Nino Properties. Michael is a team-first guy, dedicated to his craft, and understands the value of accountability and building trust with people.
Michael married his lovely wife, Chardae, in 2021. They love calling Houston Heights home and enjoy traveling, exploring Houston, and serving in their local church community.